Today only - Get the Hamilton Protocol 5pc Luggage Set - 77% Off!
Pay $39.99 on the JCPenney One Day Sale!
Originally $180 - Now 77% Off
Use coupon code - 9BIGSALE at checkout to save an additional 20% for non-JCPenney cardholders or 25% off for JCPenney cardholders
Making it now $31.99!
(82% savings- $148.01)
Shop JCPenney.com
6 color choices available. This 5 piece luggage set will help save you more while you plan your family vacations.
Set Includes:
• 25" Upright Spinner
• 21" Carry-On Spinner
• 16" Tote
• 9" Kit
• Shoe Bag
Check out all of the Luggage deal with the 50% off sale on luggage today on the JCPenney.com
One Day Sale!
*Get your coupon now and save an Extra 20% or 25% for JCP card holders with the VIP Event! Extra 25% off with your JCPenney Credit Card or Extra 20% off with any other method of payment in store or online. Online ends 11/22; in store ends 11/23. CODE: 9BIGSALE.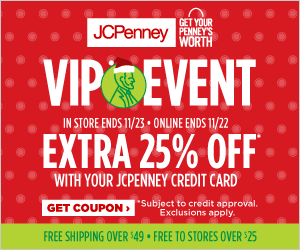 Affiliate Links may be included in posts to help maintain site. See Full Disclosure.