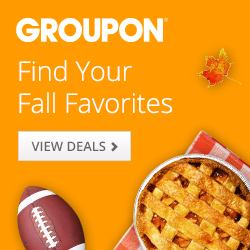 Today is a great day to save more on Groupon! Get up to 80% off on markdowns in the Sale section.
Save more on dining, activities, massages, dance classes, spray tans and more. If you are going places locally, chances are there is a Groupon discount that you might be missing. We use Groupon for a lot of our family outings. Including Dining, Movie Watching and even sports training believe it or not.
There is a Groupon discount for so many items, you may not have even known to look for one there.
Even Iphone repairs are on Groupon! With my boys we have had to use that one a few times. Knock on wood those days are done with.
Need a date night idea, check Groupon for discounts to restaurants you didn't think were in your budget. This is how hubby and I have been out to experience a few restaurants that we didn't want to spend half a paycheck on one meal at.
Get out and do Yoga on a discount or family portraits on a discount. Set up the kids birthday parties and even buy the dog a new cage on a discount. Groupon has it alll.
Shop now - Markdowns up to 80% off sitewide!
New Customers can get 25% off their first Groupon when they use code -
FIRST
at Checkout.
Affiliate Links may be included in posts to help maintain site. See Full Disclosure.