Odwalla Juice is not only on sale this week at Kroger, but now we have a rare coupon to go with this sale!
We love the Odwalla C Monster Juice. Especially to fight off the ickies, the colds and not so good germs that get passed around the schools and brought home. Pumped full of Vitamin C and multiple vitamins, this is a boost to help your body indeed.
On sale for $2.00 thru Wednesday.
Buy 2 Odwalla 15.2oz beverages - 2/$4.00
Use the new - $2.00 off two Odwalla 15.2oz product printable coupon
Pay 2/$2.00
makes it just $1 each when you buy 2!
Plus there is a Catalina Offer available thru 9/28 at Kroger
*Buy 1 Odwalla Juice & get $1 Off your Next Shopping Trip
Makes it 2/$1.00 after Catalina! ($.50 each)
Cheapest I have ever gotten Odwalla Juice.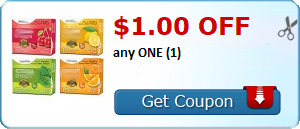 *Remember that you can print two copies of most coupons per device.
Affiliate LInks may be included in posts to help maintain the site. See Full Disclosure.