Kohls.com is offering up to 70% OFF TOY HOT DEALS
Plus get $10 Kohl's Cash for every $50 Spent.
$12.99 iQuad Remote Control Micro Quadcopter. Reg. $39.99
Small enough to fit in the palm of your hand. Great gift for the holidays and now more than half off the regular price.
Includes Quadcopter, remote control, USB Charger and Extra Blades.
Requires 2 AAA Batteries, not included.
Choose Free Store Pickup to save on shipping.
Did you see? Kohl's is offering the Lowest Prices of the Seasons throughout the store. No coupons are needed. The prices are so low you won't believe the savings are real. I know I am searching the site desperately for the boys Christmas Gifts.
I still can't believe we are less than 3 months away. Are you kidding me? Where did the year go? Teenagers are expensive. But if I can get some gifts now with a great price, I will make room in a closet and hide them under a coat or blanket.
Check out all of the deals throughout the site. Save on towels, housewares and more. Get stocked up on Holiday Gifts early and save huge!
Lowest Prices of the Season Sale - no coupons needed
A few deals you may not want to miss -
$2.99 The Big One towel or pillow. Reg. $9.99-11.99
$49.99 LG Blu-ray Player Reg $99.99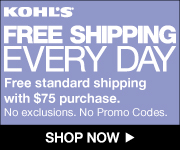 affiliate links may be included in posts to help maintain site. See Full Disclosure.