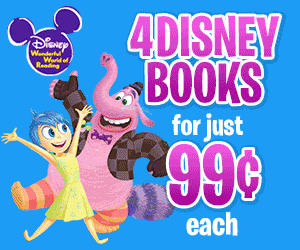 New! Inside Out creatives for Disney Books- Free Bonus Coloring Pages & Activities with Purchase
You won't want to miss Inside Out, a new Disney-Pixar animated film debuting this weekend.
The storybook adaptation tells the story of Riley Andersen and the Five Emotions (Joy, Anger, Disgust, Fear and Sadness) that work together inside her mind.
The Emotions guide Riley's everyday actions. But when Riley moves to the big city, the Emotions struggle to keep things under control.
Now you can choose 4 Disney books for just 99 cents!
Choose from 24 titles, including the newly released Inside Out book. Plus get a free Disney activity book when you order! Ships free and I love free!
Start HERE now
Affiliate Links may be included in posts to help maintain site. See Full Disclosure.